Would you think I'm mad if I told you I'm launching Mad Masks solo?
Mad Masks is a passion project that has been in the works for some time as a one-man show.
An overview of everything covered:
Origins
The Name
Solo Founder
Artwork Overview
The Collection
My Intentions
Expectations
cc0
Future Plans
TLDR; I made this as an art collection without outlandish promises.
I'm doing this because providing context and understanding where collections are coming from is essential. There are many positions within the NFT community, from stealth to hyped-up launches and investor-funded behemoths.
We can do better for one another regarding what to expect with honesty and transparency.
As an independent creator, this is my take on an NFT collection.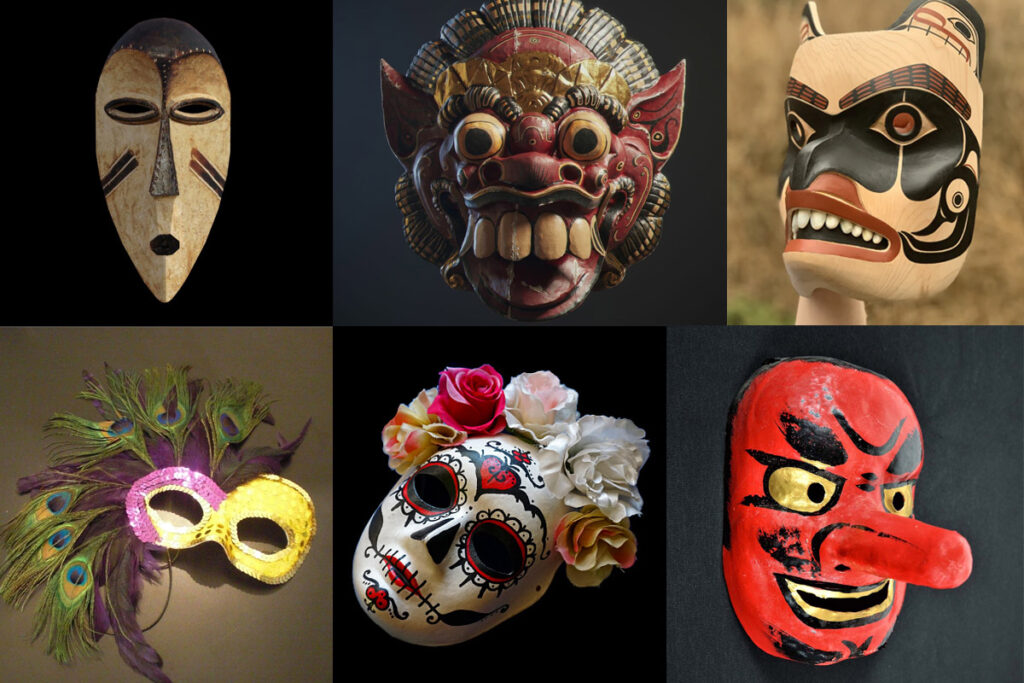 Why Mad Masks?
I've been curious about cultural masks ever since college. I did several illustrative pieces and paintings around it.
Drawing inspiration from North America, South America, Africa, Asia and worldwide.
And there are so many significant masks in pop culture. I specifically avoided literal references in the collection out of respect for copyright. I wanted to create something original and unique that I hadn't seen yet.
This is my take on masks. Usually, the mask in a collection is seen as an accessory, so I flipped the script and made it the main event.
What's in a name?
I liked the wordplay between Mad Max and Mad Masks as a name concept.
It seems to have an association that fits the vibe of the artwork and you can't go wrong with alliteration. Even though there is no direct reference, there is a trait in the collection that nods to this.
It's simple and memorable, all you need for a good name.
Why I'm doing it alone
Being a solo founder has its pros and cons.
The pros are I can realize the vision I had in mind without running it up the chain. The cons are it can be slow going at times. It's a lot of work for one person to accomplish the different aspects of making this happen.
The reality is expectations need to be managed. I'm not overpromising in what I deliver and I'm consciously building something at my own pace. The hustle and burnout culture I've seen and experienced in startups seems to have trickled over into Web3, creating a toxic environment. I aim to avoid this.
We can have understated projects and create something special over a timeline.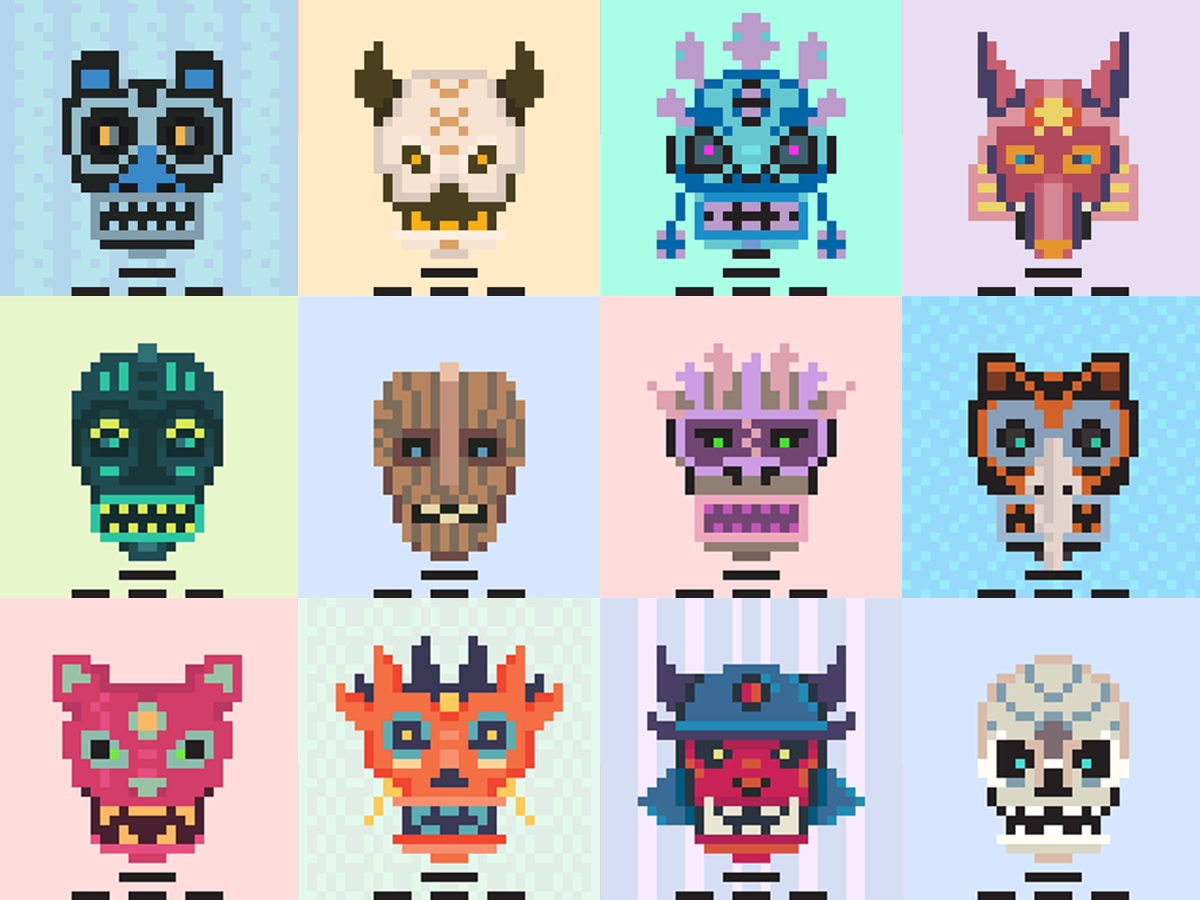 Artwork
Nothing is more iconic than having bold, clean forms and silhouettes to make a statement.
What drew me to NFTs in the first place was my love of pixel artwork. It's one of the best ways of representing something in its purest form. It's nostalgia from playing video games on Nintendo as a wee one. And hours sunk into GameBoy.
We face our problems head-on, which is why the artwork is all front facing.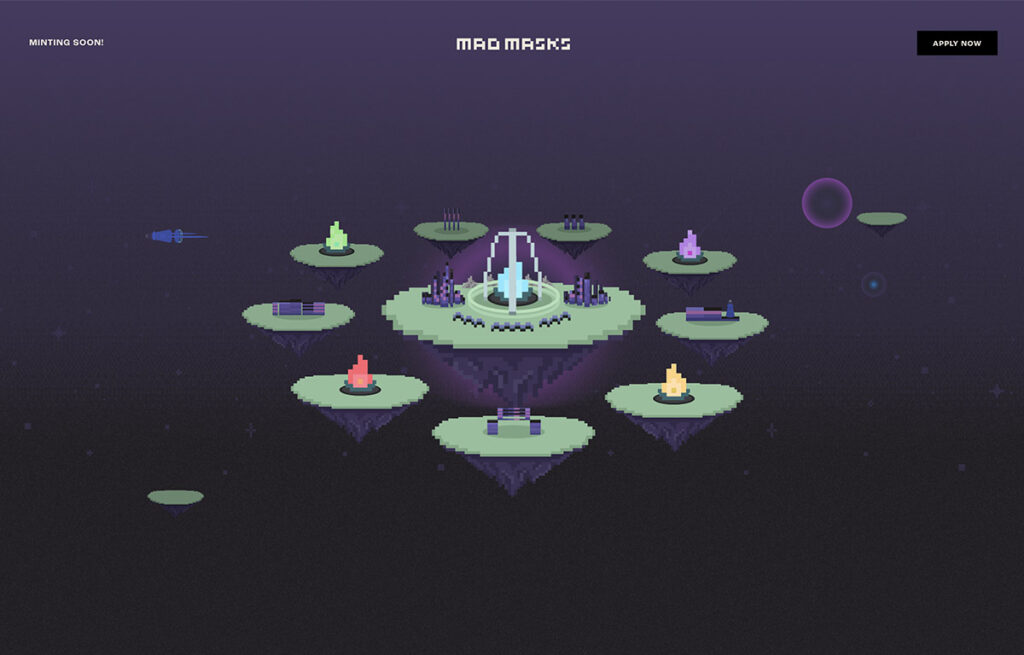 What is Mad Masks?
Mad Masks is a small set of 1024 pieces.
The collection consists of 12 main mask forms inspired by several continents, with 4 colour variations of each mask to add some depth. There are also several trait combinations and various backgrounds to mix things up.
It's a narrative-based collection. It is not a storytelling NFT. That is only one part of it. I've created a backstory outside this world to add depth and intrigue. When we add layers of interest, it becomes natural and feels right.
Included are 12 ultra-rare 1/1 mega masks, which I had a lot of fun making.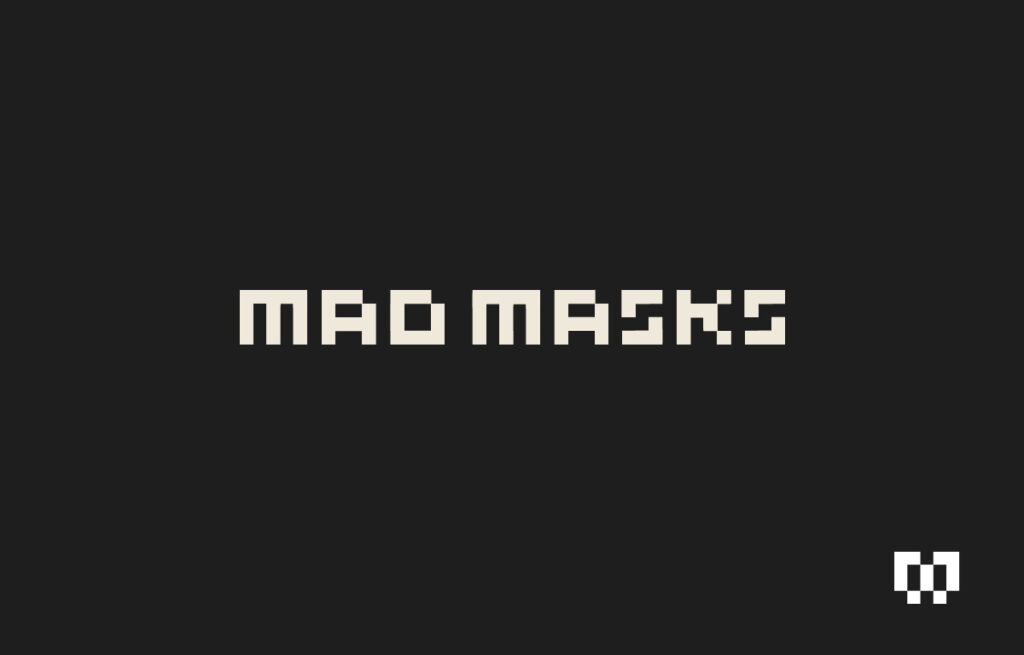 Brand Building
My day job is creating brands for businesses.
I intend to be honest and upfront so I don't hear it when I'm not posting 24/7 on the Twitter timeline. That doesn't mean Mad Masks is not a priority for me or I'm not dedicated to it. It just means I need to make it count.
I created the collection from the mindset of building an original brand from the ground up, starting with the identity, the collection art, website, Twitter presence, and more. All by me, all from scratch.
Considering every aspect of what it means to be an NFT and why you would want to have the art as a profile picture.
Managing expectations
After 10 months in Web3, I've experienced so much that it feels like a lifetime of knowledge that is hard to unpack fully.
Coming from the top of a bull market to the bottom of a bear, we'll see what's next — but I know there are challenges with launching a product and its expectations.
As holders, you want to realize a profit and sell potentially at some point. This is the eventuality for many. My main goal is to ship art so you can do what you want, whether holding onto it, use as your PFP or sell one day. That's totally up to you.
My job is to work on delivering value. I plan on doing what I can to support and grow with you all, no matter what that looks like.
I don't pretend to have all the answers. I might make mistakes but I aim to do my best to represent you all that are mad enough to join me on this journey.
This is not a hype train. This is not a grind. Normalize sustained growth. We need more of it.
cc0
The cc0 community is a beautiful thing. Ultimately, the artwork is cc0 and you can do whatever you want with the NFT you own. The original collection will always be first and derivatives may pop up and that's OK.
My only ask is that the "Mad Masks" identity itself stays as is and that it cannot be used without permission.
As painful as it can be to do — if you genuinely love something, you must set it free.
Mad plans
The only promise is the art you are receiving. We're delivering cc0 artwork as utility and the community decides where it goes from here. I do have a few thoughts on what direction it can take. I may continue expanding on the original vision. But I'll keep it to myself for now.
I hope the collection connects like-minded enthusiasts to share, learn and grow together on their path wherever they go.
I understand I may be in the minority, but it feels suitable and more realistic than many other collections you see today. The era of false promises and obsession over floor prices is over.
I appreciate every fan of my work and thank you for supporting the Mad Masks vision.
Stay humble, stay mad. Let's create together.
– Mad Jack