It's surreal to reflect on the minting of the Mad Masks collection precisely one year ago.
I remember it like it was yesterday. It all started from a kernel of an idea earlier in 2022 that developed into 12 unique characters with a narrative.
From creating a Twitter profile and growing a following leading up to launch. And then building out the collection on Indelible Labs. The allowlist was a slow trickle the day of, and the public immediately flew out the next day. Fond memories of tweeting after mint-out while hiking in the woods with family, a euphoric day of mixed emotions.
The on-chain community is relatively small compared to the potential for growth that I see happening in the space. It certainly is more prevalent now, and seeing where people take it is exciting. For me, it's realizing the value of art and technology within an NFT where everything is stored fully on-chain. That will never not be a cool thing to me.
Join me as I revisit our journey so far…
Member Area
Soon after launch, we delivered our first benefit – a token-gated area which provides an exclusive space for token owners to access content related to Mad Masks. This portal has several things, including the latest information, downloads, member map, games and more. It is periodically updated and continues to evolve.
If you own a Mad Mask, stop by the member area if you haven't yet and check it out!
Exclusive Content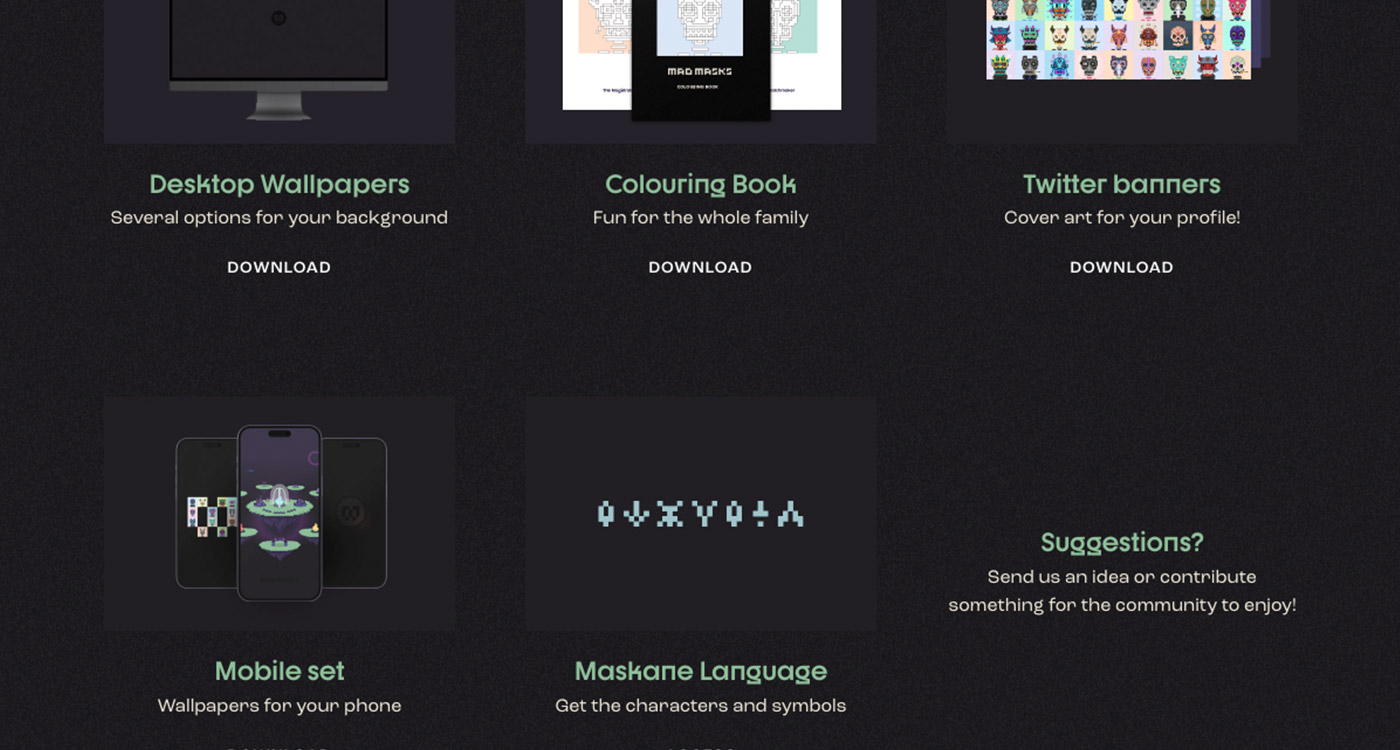 We believe there is value in providing the community with what they need to support them as brand ambassadors. After all, it's not all about the creator. It's what the community does with it and where others build to extend that makes it what it is.
Whether it's representing Mad Masks online or providing material to enjoy, having a centralized repository of everything helps organize assets in an easy and accessible way.
Community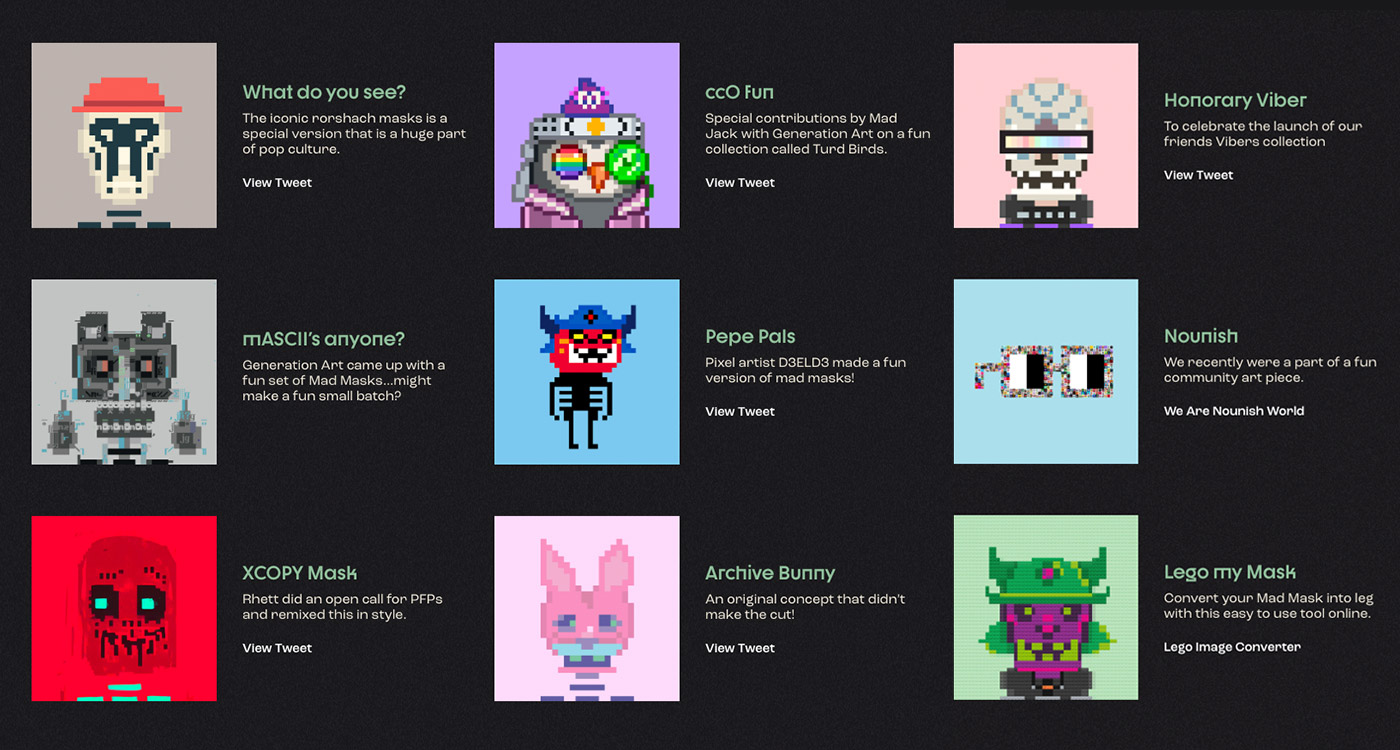 The C-Word gets thrown a lot in the NFT space. What does it mean to have a community?
A group of like-minded, passionate people working together on a path as they learn, grow and explore a space that is in continual evolution. Contributions, no matter how big or small, help. Whether it's sharing content, conversing or taking the initiative to collaborate or build something.
I look forward to our humble group chat every day on Twitter as we have successfully avoided Discord thus far to keep things tight and straightforward. As much as the community supports Mad Masks, I continue to help members as best I can in any way possible.
Art drops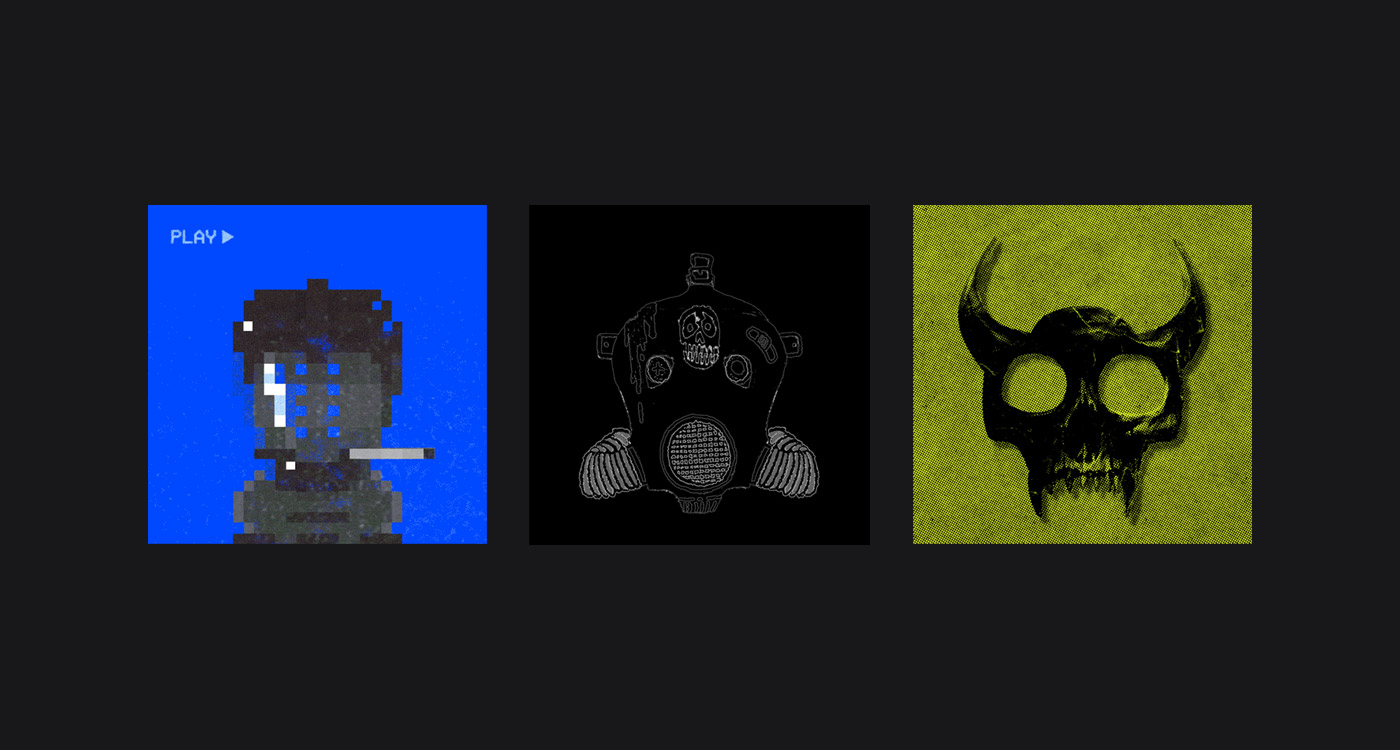 I love the original collection. And yet, there is something special about seeing other artists take on masks and their interpretation. We've had some amazingly talented guest artists providing artwork available, first and foremost, to our community and anyone else who wants to support what we're doing.
So far, we've launched 5 editions, and while they are not on-chain – we may explore this option further.
Special thanks to our artists so far: smokestacks, chrome void, Ian by Design, Mad Jack, and Graphicography, with more to be announced.
View past drops here, and follow on Twitter for announcements of any upcoming drops!
Marketplace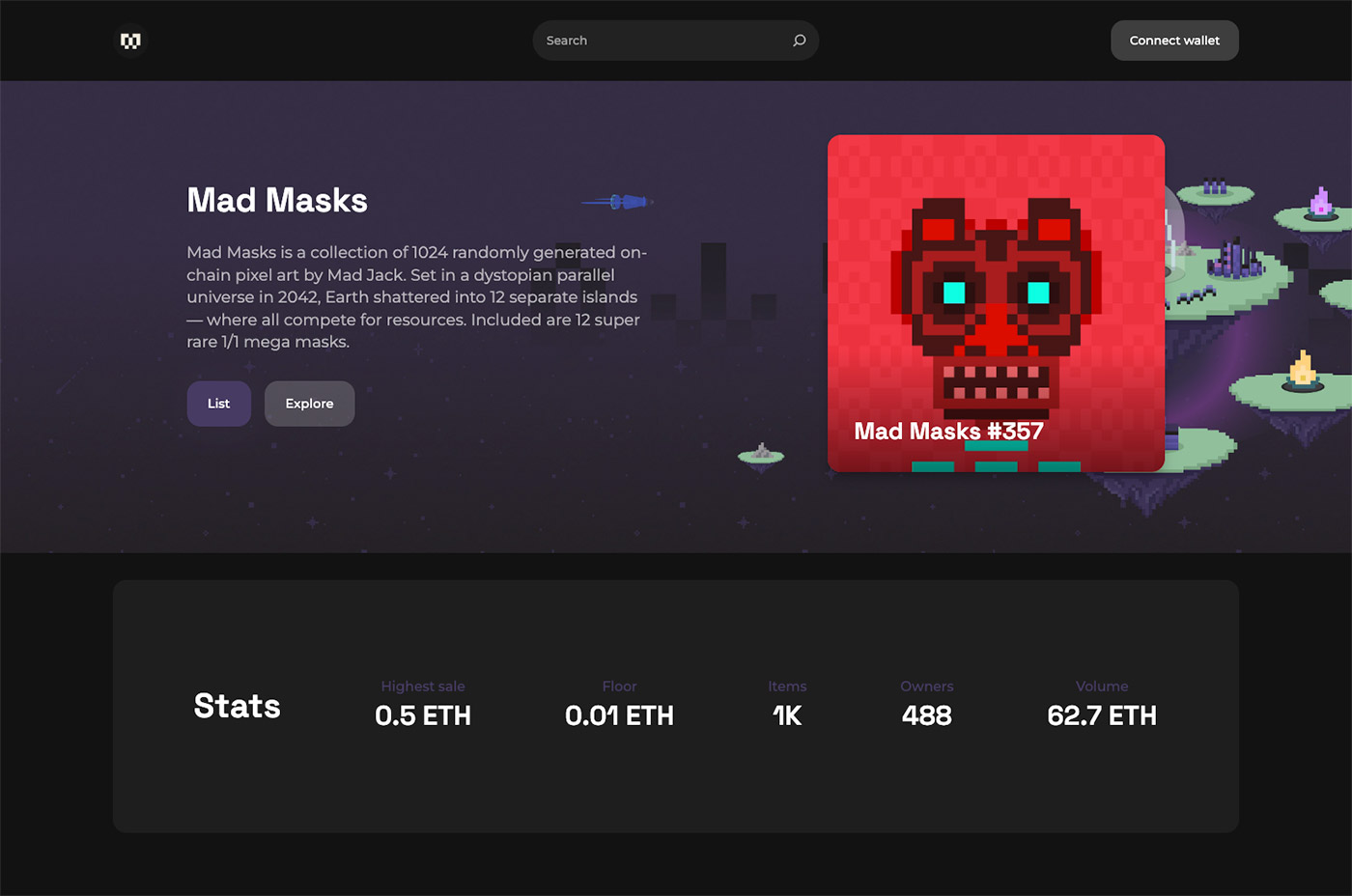 As we've seen, the market does not always bode well for PFPs during the bear with waning interest and yet I still feel we have something unique and extraordinary with what we're doing. Outside of bull-run speculation and the top projects extracting most of the volume, we are proud to be a small, independent collection on our own timeline. We continue to keep it simple!
This year, the debate on royalties shifted into the leading marketplaces taking action, setting the benchmark of optional royalties as the standard to stay competitive. While we understand from a business perspective, it also somewhat alienates independent creators from wanting to use the big platforms.
In response, we have created our marketplace, thanks to Rarible, where you can alternatively browse Mad Masks and honour royalties. It's nice to have options.
It takes a village
It would be remiss of me not to recognize and point out that building a community takes more than just a great concept and fun art. The reality is the connections made on Twitter, Discord and with other communities are essential for cross-promoting what we're all about and aligning based on similar values and interests.
We couldn't have done it without the relationships and alliances we've developed before, during and throughout our timeline.
Shout out to the following folks that helped make it happen:
Indelible Labs, The Boneys, Dankbots, Obits, Edgehogs, VisualizeValue, Posers, Unpunks, Fully on Chain and many others. I appreciate all your support.
We wouldn't be here without you and we appreciate all you do for the space. Thank you.
What's next
Many have asked and will continue to ask, what is next? It's a reasonable question.
Part of the challenge in this space is the emphasis on roadmaps and utility, which, as we've seen, is a slippery slope. Is art enough of a draw? From the start, we've managed expectations on what the collection is about for those paying attention. Art, vibes, and anything else beyond this is a bonus.
In a highly financially incentivized space, the question becomes what are we here for, what do we stand for and what does that look like in the long term? Passion supersedes any short-term goals, whether floor price or speculating to flip an NFT token.
Mad Masks was a fantastic starting point for creating within NFTs. As an artist-centric builder, I see us as just getting started. I am always considering how I can support and benefit the community.
We will consider other avenues and keep our options open. Perhaps even dipping our toes further into the digital and physical realm.
Mad Masks is helping pave the way for independent on-chain pixel art PFPs with a strong statement supporting enthusiasts who appreciate what we're doing.
And, of course, we will continue to show up, create content and support the community. Your feedback and energy drive us forward.
We welcome you to join us if you so wish to do so and we hope you will be a part of our story, no matter how involved you want to be.
For those of you who have been here from the start, I want to thank you so much. It's a pleasure to have you with us.
A special thank you goes out to all the supporters. Community members constantly inspire me and it is beautiful to see everyone's unique journey as they find their way and explore what they want to focus on. I only hope to help amplify this in some way whenever possible.
Here's to one year. Stay strong and mask on!